Residential Holiday Lighting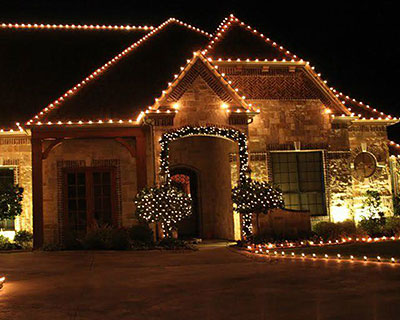 White it really is exciting to plan all the decorations and lighting, it isn't easy to balance all these different tasks efficiently and effectively. The other aspect is that climbing ladders to string out lights in various areas of your home or landscape can be quite risky. One of the best ways to get around all these problems is to hire the services of professionals that would be able to handle your residential holiday lighting requirements.


Residential Lighting Plans
Companies like Classic Holiday Lighting can provide excellent Residential Holiday Lighting services to clients in and around Prosper, Frisco, and McKinney. The company also handles similar projects on properties around Plano, Lewisville, Denton, and Celina. Many property owners in Plano, Lewisville, Denton and the surrounding areas get their Residential Holiday Lighting installations from this company.

Holiday lighting contractors would be able to keep your ideas and requirements in view and provide creative and unique outdoor lighting plans for your property. The right kind of illumination enhances the appeal of the exterior areas and features of your home and improves its curb appeal as well.


Customized Holiday Lighting Services
Residential holiday lighting experts go about this job in a very methodical and meticulous manner. They will plan the lighting installations down to the smallest detail. This approach goes a long way in ensuring that your home looks outstanding during the holiday season. Whether you need tree lighting, landscape lighting or lights for your roofline and other exterior areas, these professionals will transform the entire look of your property with custom lighting installations.

If you have many lighting fixtures stored, they will unpack these and install them as required. You also have the option to either rent or buy different types of lights and decorations from these companies. One of the other benefits of hiring the services of holiday lighting contractors is that they will also handle the maintenance of these lights right through the season. So you don't have to worry about certain strings of lights not working, or dysfunctional bulbs etc.


Holiday Lighting Cost
Credible residential and holiday lighting companies have an impressive variety of festive lighting, timers, accessories as well as extension cords etc. that are required for lighting during the holiday season. These professionals have the skill, training as well as equipment to install lighting in difficult-to-access areas as well as tall trees in your landscape.

At the end of the holiday season, they will also remove all the lights efficiently and store them for you. In short, they handle every little aspect of your residential holiday lighting requirements. This takes the stress of handing this job yourself and gives you the time to focus on other important things.

When you want attractive and creative Christmas lighting that will enhance the appeal of your property and create a festive look, you need experienced lighting contractors like the ones at Classic Holiday Lighting. These professionals would be able to provide customized solutions at competitive residential holiday lighting cost.


"MORE ARTICLES"
Holiday Lighting

We Provide Services to the Following Cities, Towns and Surrounding Regions of TX:
Contact Us
Ofelia Harrington - General Manager/Sales

214-592-5504

Eric Anderson - Owner

Stacey Anderson - Owner/Accounting