HOA/Businesses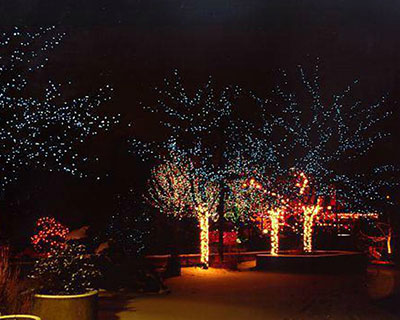 Nothing says the holidays like a beautifully decorated entrance to any business or subdivision. We at Classic Holiday Lighting can create magic on your property, with creative and professionally installed lights during the holiday season. We plan, strategize and then install lights at locations that will enhance the appeal and beauty of your business or HOA property.

Over the years, our company has installed stunning holiday lighting and displays on properties in and around Prosper, Frisco, Little Elm, and The Colony. Each year, clients from Allen, Plano, Corinth, and Lewisville hire our services for all their festive lighting needs. Catering to residential and commercial clients in Highland Village, Addison, and Denton, has been a matter of pride for us.

Classic Holiday Lighting has been decorating over 15 subdivisions and numerous businesses in the Collin County and Ft. Worth area. Business owners and HOAs in the region are increasingly recognizing the importance of hiring professionals to handle holiday lighting and event lighting for them. Providing beautiful decorations for the past 9 years brings us pride in the gorgeous work we do. We take pride in working with every business and HOA individually to offer them the best design to showcase their business or subdivision entrance.
Creative HOA Lighting Ideas
When you hire experienced professionals like us for the job, you can rest assured that the HOA outdoor decorative lighting will be installed within the shortest possible time. The end result will also be more reliable, and brighter. Our team is very creative and has an eye for detail. This means the lighting that we install will be in sync with the rest of the architectural elements, hardscaping, and landscaping on your property.
Installing decorative lighting on commercial or HOA properties is no mean feat. Sometimes, property owners do try a DIY lighting installation. However, they often become frustrated once the display is up because it doesn't look as great as it did on the box. This primarily occurs because people underestimate the amount of equipment, energy and time required to create something that looks stunning.
Custom Business Lighting Solutions
One of the best ways to avoid spending huge amounts of money, and a significant a number of man-hours annually, unpacking and untangling as well as installing unreliable and dim lighting, is to hire the experts like the ones at Classic Holiday Lighting. We can provide you with the kind of customized solutions you need. We keep your ideas and requirements central to the solutions we provide, and the work will be completed safely and professionally.
Our specialized services include everything from detailed site evaluation to the design and installation of top-notch LED lighting products, but can be installed with good quality, non-invasive fasteners that help protect your HOA landscape and property. Our technicians have extensive experience in safely climbing various areas of your property including trees. Regardless of which way you look at it, hiring professionals like us for the job, is one of the best ways to ensure that you have the best lighting within the shortest possible time.
When you will settle for nothing but the best, Classic Holiday Lighting is the company to come to. You will find that we offer customized solutions at very competitive HOA lighting cost. For more details or for a quote, feel free to contact us at 214-592-5055 or simply send us your queries via this Contact Us form.
We Provide Services to the Following Cities, Towns and Surrounding Regions of TX:
Contact Us
Ofelia Harrington - General Manager/Sales

214-592-5504

Eric Anderson - Owner

Stacey Anderson - Owner/Accounting