Event Lighting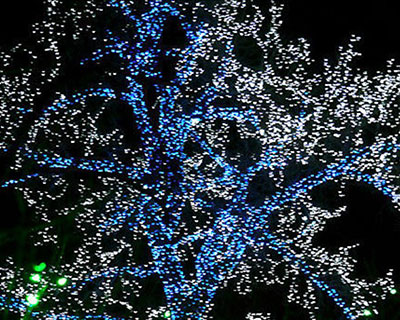 While lighting is an integral aspect of Christmas, there are a number of other occasions and events during which lighting can create a dramatic effect on your property. From twinkling and sparkling lights hanging from trees to outdoor walls drenched in stunning colored lights, we can help you envision and plan the perfect backdrop and setting for your next event.

We at Classic Holiday Lighting can create magic on your property, with creative and professionally installed event lights. Our company strongly believes that lighting is more than just stringing a few lights around the property. We plan, strategize and then install lights at locations that will enhance the appeal and beauty of your property. We are happy to work in event locations or even at your residential property.
Custom Event Lighting Services
Over the years, our company has installed stunning event lighting and displays on properties in and around Prosper, Frisco, Little Elm, and The Colony. Each year, clients from Allen, Plano, Corinth, and Lewisville hire our services for all their festive lighting needs. Catering to residential and commercial clients in Highland Village, Addison, and Denton, has been a matter of pride for us.
When you opt for our event lighting solutions, you are assured of professional services, top quality materials and efficient installation. Our team can install lighting fixtures for any event you might want to celebrate. If you already have the necessary decorations and supplies, we can install them for you. If you require any additional lighting, we can supply that as well. You also have the option to rent the lights you want from us. Some of the events we can provide lighting for include:
Halloween Lighting
Our team can decorate your house & yard for Halloween. They can quickly turn your yard into an evil yard haunt, a chilling cemetery or a ghoulish graveyard. Regardless of what your decorating theme is, a haunted yard will also need special effects such as a chilling soundtrack and fog effects, and we are more than happy to provide these as well. The range of options you can choose from include:
Lit Skeletons, Monsters, Goblins, Pumpkins
Graveyard Scenes
Specialty Lighting, Colors and Strobes
Halloween Decor
Theme Colors
And more…
Memorial Day or 4TH of July Lighting
We cater to clients that want lighting for various holidays such as Memorial Day or the 4th of July. Not only will we help you display the flag with pride, but can also install different types of custom lighting for events, that will enhance the appeal of the entire setting. If you are planning to host a barbecue, it's a good idea to get some lighting installed.
This will also improve the safety levels of the space. We can focus on patriotic themes such as a Red, White and Blue, or any other theme you prefer. Our company offers these solutions, to both residential as well as commercial clients. If you're looking to decorate for Halloween or 4th of July, give us a call to discuss some lighting ideas.
When you will settle for nothing but the best, Classic Holiday Lighting is the company to come to. You will find that we offer customized solutions at very competitive event lighting cost. For more details or for a quote, feel free to contact us at 214-592-5055 or simply send us your queries via this Contact Us form.
We Provide Services to the Following Cities, Towns and Surrounding Regions of TX:
Contact Us
Ofelia Harrington - General Manager/Sales

214-592-5504

Eric Anderson - Owner

Stacey Anderson - Owner/Accounting