Holiday Lighting Services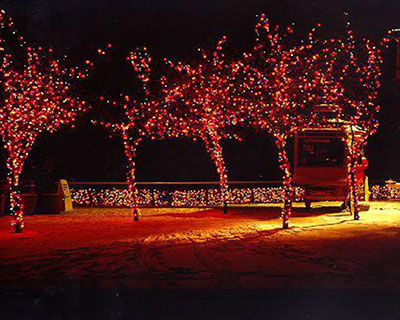 Classic Holiday Lighting can create magic on your property, with creative and professionally installed lights during the holiday season. We strongly believe that lighting is more than just stringing a few lights around the property. We plan, strategize and then install lights at locations that will enhance the appeal and beauty of your property.

Over the years, our company has installed stunning lighting and displays on properties in and around Prosper, Frisco, Little Elm, and The Colony. Each year, clients from Allen, Plano, Corinth, and Lewisville hire our services for all their festive lighting needs. Catering to residential and commercial clients in Highland Village, Addison, and Denton has been a matter of pride for us.
Holiday Lighting
All your holiday preparations are incomplete without the right type of decorations and lighting. Both, residential and commercial property owners invest a lot of time, effort and energy into ensuring that their home or business has been lighted and decorated well for the upcoming holiday season. However, holiday lighting can also be a little tedious and time-consuming if you handle it yourself. It's far better to hire professionals like us for the job. We provide customized would solutions and will string up your lights and decorations in the manner you want them. Read More About Holiday Lighting >>
Commercial Lighting
Hoards of shoppers head for local retail stores, malls, supermarkets as well as standalone stores do to all their holiday shopping. While this is a great time of the year to increase sales, it isn't something which happens without some effort. Commercial property owners start planning on their marketing and advertising campaigns for the upcoming holiday season literally months in advance. While some shop owners prefer to handle the lighting and decoration themselves, it's far better to hire professionals with experience in this space for this job. We focus on providing solutions that meet your requirements and will attract customers to your property. Read More About Commercial Lighting >>
Residential Lighting
Residential property owners are very keen to improve and enhance the appearance of their home and landscaping during the holidays. Christmas is a very busy time for most people. Though they're very keen to decorate and light up their home, they find themselves strapped for time. You can always get the type of lighting and decorations you want by hiring professionals like us what would cater to your residential lighting needs. Aside from holiday lighting, we also handle all types of event lighting and can help you light up your home for private events, patriotic holidays like the 4th of July or even for Halloween and more. Read More About Residential Lighting >>
Events
Lighting is an extremely important part of festivities and holidays. Just simple decorations aren't enough to create the ambiance and effect you want. Getting the right type of exterior lighting for your landscape and structure is a great way to improve the attractiveness and aesthetics of your home or business. In addition to decorating lighting, our company offers excellent event lighting solutions that are customized to your requirements. Whether you need lighting for the 4th of July, Halloween or any other private party or event in your home, commercial establishment or event venue, we are the company that can provide you with the services you need. Read More About Event Lighting >>
HOA/Businesses
Christmas time and other holidays are a time for cheer and festivities. Just as individual homeowners like to decorate their property during the season, businesses and HOA's also like to get creative and illuminate various areas of their properties. This can be a massive job as the spaces to be illuminated can be quite vast. Handymen and local electricians are unable to handle the job as skillfully as professionals like us would be able to. We have the training, resources, equipment, and experience to provide top-notch solutions for all your HOA and business lighting needs. Aside from holiday lighting for businesses and homeowners associations, we can also provide special event lighting as required. Read More About HOA/Businesses Lighting >>
Lighting Accessories
Adding decorative lights to your home or commercial property in during the holidays or special events is one of the best ways to spruce up its appearance. In addition to lighting, most people also like to add a number of different decorations with or without lights in them. We provide a range of lighting accessories such as banners, pole mounts, decorated garlands, decorated wreaths, inflatable characters, commercial Christmas trees as well as all was oversized decorations and banners. In addition to providing all of these right services, we can also help you plan &designed your entire lighting installation and would handle the job from start to finish. Read More About Lighting Accessories >>
When you will settle for nothing but the best, Classic Holiday Lighting is the company to come to. You will find that we offer customized solutions at very competitive holiday lighting cost. For more details or for a quote, feel free to contact us at 214-592-5055 or simply send us your queries via this Contact Us form.
We Provide Services to the Following Cities, Towns and Surrounding Regions of TX:
Contact Us
Ofelia Harrington - General Manager/Sales

214-592-5504

Eric Anderson - Owner

Stacey Anderson - Owner/Accounting