Holiday Lighting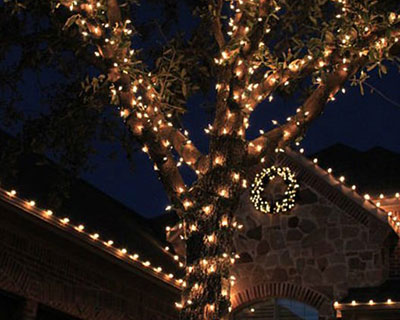 While everyone finds it exciting to decorate their homes during the holiday season, many people also find themselves strapped for time. Stringing out lights on trees, bushes or the outdoor areas as well as roofs can prove to be quite a time-consuming proposition. In fact, it isn't very safe to climb up on roofs and other high areas in order to string out decorative holiday lighting.
Professional Holiday Lighting Companies
One of the best ways to ensure that your property looks stunning during the holiday season is to hire the services of experts that provide Christmas and holiday lighting. Companies like Classic Holiday Lighting can provide excellent Holiday Lighting services to clients in and around Prosper, Frisco, and McKinney. The company also handles similar projects on properties around Plano, Lewisville, Denton, and Celina. Many property owners in Plano, Lewisville, Denton and the surrounding areas get their holiday lighting installations from this company.
Creative Holiday Lighting Ideas
Professionals that handle holiday lighting have years of experience behind them. They know exactly which kind of fixtures would enhance the appeal of different areas of your home or business. They will have discussions with you in order to understand what your ideas for these spaces are.
They will also assess and survey the available space before creating the right holiday lighting plan for your property. These experts have vast experience in installing holiday lights and are very creative in their approach. This means they would be able to use your ideas, incorporate their inputs to create a stunning look on your property.
Custom Christmas Lighting Services
The holiday season brings with it a lot of happiness and good cheer. However, all of this also needs the right kind of setting and that is what holiday lighting does. It lends a very cheery look to the atmosphere and makes all the areas look festive and bright.
When you hire a company for all your Christmas and holiday lighting requirements, you can rest assured that they will handle the job safely, efficiently and expertly for you. This gives you the time to focus on all the other aspects of your holiday plans. As a commercial property owner, if you prefer renting holiday lighting, you have that option as well. In fact, you can also buy holiday lighting from these companies.
When you want attractive and creative Christmas Lighting that will enhance the appeal of your property and create a festive look, you need experienced lighting contractors like the ones at Classic Holiday Lighting. These professionals would be able to provide customized solutions at competitive Holiday Lighting cost.
We Provide Services to the Following Cities, Towns and Surrounding Regions of TX:
Contact Us
Ofelia Harrington - General Manager/Sales

214-592-5504

Eric Anderson - Owner

Stacey Anderson - Owner/Accounting